THE VALLEY'S FAVORITE

Private Jet & Helicopter Air Charters
With Valley Jet, experience the latest private aircraft with 1st in class travel services that exceed expectations of comfort and convenience. Globally, Valley Jet serves a variety of clients from Fortune 500 companies and world-famous celebrities to families and private organizations. Exceptional jet charters, helicopter flights, exquisite catering, and top-notch ground transportation can all be scheduled through our 24/7 customer service team for events, business travel, and vacation.
Based in Scottsdale, Arizona, Valley Jet serves domestic and international travelers with exceptional private aircraft charters, door to ramp service, flight flexibility, convenience, and an aircraft network of over 9,000 jets worldwide.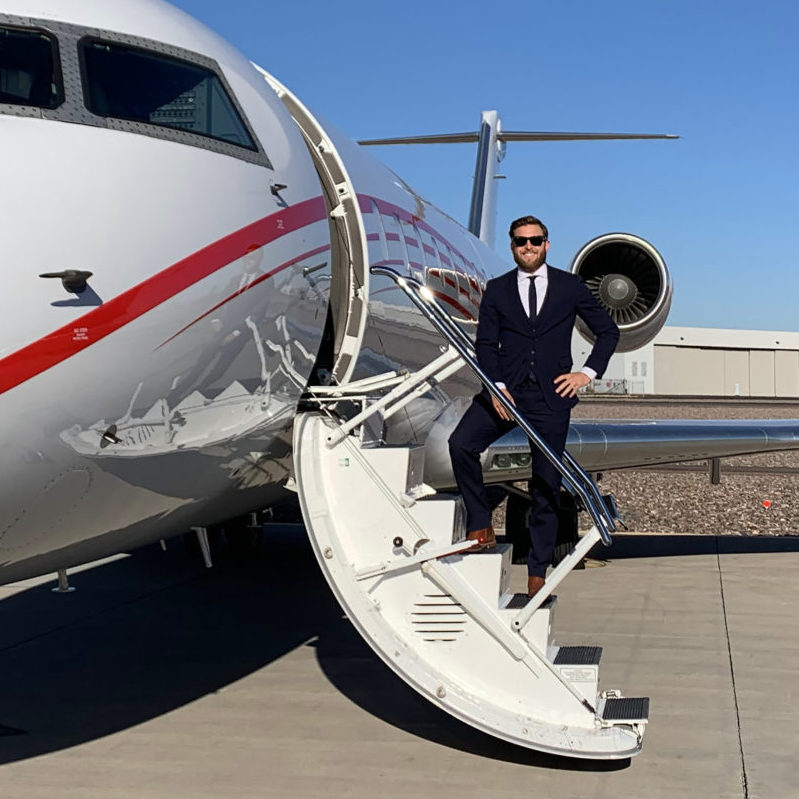 Garrett Mozingo, Business Owner
GARRETT MOZINGO
Business Owner
Garrett Mozingo is a Scottsdale resident originally from Atlanta, Georgia. Previously to his work in aviation and private jet charters, he received his Bachelors in Marketing and Business at Clemson University in South Carolina. His early career experience was focused on customer service and sales at some of aviation's top fortune 500 companies. Drawn to the fast paced and challenging environment of general aviation, Garrett began his career as a charter flight broker. Garrett started Valley Jet LLC in 2017 with a focus on excellent and unique customer experiences like no other private jet charter service in America.
In his free time, Garrett loves golfing in Scottsdale, hiking, and spending time with his friends and family. He also is an avid hunter with his partner Drake, a five year old Golden Retriever. Grateful for the tight-knit community of Scottsdale, Garrett has found a way to make a lasting positive impact through entrepreneurship and hard work.

Scottsdale Air Charter, Private Jet Charter Scottsdale, Scottsdale, Scottsdale Jet Charter, Air Charter Scottsdale, Arizona Private Jet, Private Jet to Arizona, Air Hire Scottsdale, Scottsdale Air Charter, Private Jet Charter, Air Charter Travel, Air Charter Flights, Private Jet Flights, Corporate Jet Charter, Business Jet Charter, Air Charter Services, Private Jet Hire, Aircraft Charter, Private Jet Charter Service, Jet Charter Services, Private Air Charter, Executive Jet Charter, Private Plane Charter, Luxury Jet Charter, Hire A Private Jet, Charter Planes, Gulfstream Charter, Private Jet Charter Prices, Jet Charter Cost, Jet Charter Quote, Plane Charter Rates, Plane Rental, Private Jet Aircraft, Executive Airliner Charters, private jet, private jet charter, flight programs, on-demand charter, business jet, business jets, private jet charter, executive jet management, business jet charters, book a private jet, rent a private jet, charter flights, air charter, corporate travel, jet charter, private plane charter, plane rental scottsdale, plane rental phoenix, Valley Jet LLCces, Private Jet Hire, Aircraft Charter, Private Jet Charter Service, Jet Charter Services, Private Air Charter, Executive Jet Charter, Private Plane Charter, Luxury Jet Charter, Hire A Private Jet, Charter Planes, Gulfstream Charter, Private Jet Charter Prices, Jet Charter Cost, Jet Charter Quote, Plane Charter Rates, Plane Rental, Private Jet Aircraft, Executive Airliner Charters